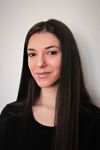 Nevena Radulović
Expertise
Editing, Fact-checking, Proofreading, Content Writing
Education
Master's degree in English Language and Literature from the University of Kragujevac, Bachelor's degree in English Language and Literature from the University of Kragujevac
Experience
Nevena's long-standing love of languages emerged at an early age and shines through in her work as an editor, keen eye for detail, and finesse in polishing texts. In her free time, she also enjoys reading, keeping up with contemporary culture, and translating multiple languages.
About EGNITION's Editorial Process
EGNITION's editorial team is committed to delivering accurate and pertinent e-commerce insights that focus on automating business functions to foster success. Our experts diligently fact-check all content to ensure its precision and applicability. We pride ourselves on sourcing information exclusively from credible e-commerce authorities and authoritative sources. When necessary, we provide proper citations within our materials. Each piece of content undergoes a thorough review and editing process, reflecting our steadfast dedication to maintaining the highest standards of excellence. For an in-depth understanding of our core principles and comprehensive procedures, we encourage you to peruse our detailed editorial policy.
Latest from Nevena Radulović