How to Use AI When Building a Shopify Store From Scratch

By

Adeel Qayum

Reviewed by

Viktorija Cosic
Updated September 4, 2023.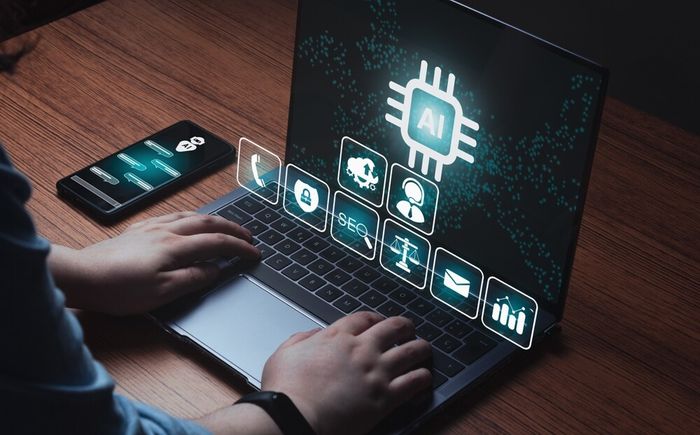 By now, you've surely heard a lot of buzz about AI. Maybe you've even used it for personal or business tasks, like asking ChatGPT for tips to start a Shopify store. In the past decade, AI has transformed how we get things done across nearly any industry, from healthcare to finance to gaming to agriculture. In fact, according to a recent PwC survey, 86% of business decision-makers think of AI as a mainstream technology.
So, it's no wonder that there are powerful sets of AI tools to help you build a Shopify store from scratch. As an entrepreneur or developer, AI can help enhance different aspects of your Shopify store for improved efficiency and customer experience. In this article, we'll touch on practical AI integration to streamline inventory management and boost sales for your store.
What and How to Use AI for
1. Personalized Customer Experience
2. Streamlined Inventory Management
3. Automated Customer Support
4. Dynamic Pricing Strategies
5. Predictive Analytics for Marketing
1. Personalized Customer Experience
Many customers will settle for no less than a personalized experience, walking away from a brand interaction feeling like their needs and wants were catered to swiftly and efficiently. Personalization enhances sales and drives customer satisfaction—a big part is relevant product recommendations based on the customer's past behavior and shared preferences.
EBay uses AI to deliver personalized item recommendations. With user behavior analysis, the AI can identify the interests of different customer segments. EBay then delivers tailored product suggestions that are likely to bring in conversions.
2. Streamlined Inventory Management
Another great AI use for your Shopify store is inventory management, which can be a huge pain for brands that take a more manual or hands-on approach. This is especially true for stores with brick-and-mortar locations and their online storefront. Let's look at some Shopify apps developed to use AI technology. You can use them to streamline and automate your inventory management—and save yourself some major headaches.
Bestsellers reSort: Smart Product Ordering for Increased Sales
Bestsellers reSort is an app by Egnition that helps with automated online merchandising. It offers precise sorting rules based on real revenue, sales, and tags, which make the predictions laser-targeted for better accuracy. Bestsellers reSort also has features like pushing sold-out products down and promoting new items, helping to flow traffic and demand toward the items that make the most sense for your current stock.
Advanced AI Algorithms

Leverage cutting-edge AI algorithms to automatically sort and arrange products within collections, ensuring optimal visibility for bestsellers.

Strategic Product Highlighting

Utilize AI-driven automation to position regionally exclusive or promotional items in prime spots, enhancing customer engagement. Customized Arrangement: Tailor collections based on diverse parameters like revenue, sales, and inventory, offering a personalized shopping experience.

Time Efficiency

Harness the power of AI to swiftly execute bulk sorting actions, saving you valuable time compared to manual efforts.

Maximized Cross-Selling

Employ AI-driven arrangements to strategically group complementary products, boosting cross-selling opportunities. Data-Driven Insights: Benefit from AI-powered analytics to identify trends and adjust product positioning for optimal sales performance.
» Still not sure? Check this review for the Bestsellers reSort app
Out-of-Stock Police: Efficient Handling of Inventory Availability
Out-of-Stock Police is another app by Egnition designed for seamless out-of-stock product management. The app uses real-time inventory organization to push products down, similar to Bestsellers reSort. You'll also have flexible configuration options for hiding or pushing products based on timeframes. It also allows you to keep products indexed on search engines even if they're out of stock, which helps your SEO performance in the long run by retaining your search rankings, avoiding broken links, and preserving the user experience.
Automated Visibility Management

Utilize AI technology to automatically hide out-of-stock products and ensure that customers see only available items.

Real-time Monitoring

Leverage AI-driven real-time monitoring to promptly detect stockouts and adjust product visibility accordingly.

Minimized Lost Sales

AI-driven automation reduces the risk of lost sales due to out-of-stock products, boosting revenue potential.

Multi-Channel Control

Benefit from AI's ability to manage out-of-stock items across multiple channels, ensuring consistency in inventory presentation.

Focus on Growth

With AI handling inventory visibility, you can focus on business growth strategies instead of manually managing product availability.
By integrating Bestsellers reSort and Out-of-stock Police, you tap into the power of AI and new technological advancements to elevate your inventory management on Shopify. These apps streamline your operations and position your store for success in a rapidly evolving e-commerce landscape.
» Need to know more? Read the following Out-of-Stock Police review
3. Automated Customer Support
E-commerce customers expect instant responses. AI chatbots, driven by intelligent algorithms, offer just that. These bots promptly address user inquiries, ensuring no customer is left hanging—quite a shift from the prolonged waits of traditional customer support.
Beyond speed, chatbots offer 24/7 support. Chatbots are always available, whether it's a midnight query or a weekend request. This continuous availability, paired with their ability to tailor interactions based on customer data, ensures that every user enjoys an enhanced and seamless support experience, regardless of when they shop.
Shopify store SSENSE uses an AI chatbot that promptly addresses style-related queries. All customers need to do is ask a question or describe what they're looking for, and the chatbot will deliver relevant advice or product recommendations.
4. Dynamic Pricing Strategies
AI tools can significantly help craft the perfect price for your products. They use sophisticated algorithms that sometimes analyze millions of data points, including market trends and customer demand. The output from these calculations is data-backed recommendations for optimal pricing strategies. In turn, e-commerce brands can stay competitive and maximize their profits.
Amazon is one of the most ubiquitous brands regarding dynamic pricing strategies. The company uses a complex algorithm, predicting prices based on:
Inventory levels

Competitor prices

Historical sales data

Conversion rates

User behavior

Seasonality

Time of day

Location

Reviews and more
5. Predictive Analytics for Marketing
AI tools can also use customer data to predict trends and behaviors, which can help inform your marketing strategies and plans. With the help of AI-driven data, you'll be able to optimize marketing campaigns on a granular level by targeting specific customer segments. Here are some key ways that AI can help boost your marketing ROI:
Customer segmentation and lead scoring

Predicting churn rates and demand

Allocating marketing budget

Offering personalized product recommendations and marketing incentives

Choosing the best marketing channels

Personalizing content for segments

Optimizing conversion rates

Guidance for A/B testing
Men's custom suit company Indochino uses an AI tool to personalize content across its website. By serving content tailored to different customer segments, the company has driven a substantial boost in revenue, amounting to an impressive $1 million in incremental sales.


Pro Tips for Advanced AI Integration


Depending on your e-commerce store type, AI can help take it to another level. Here are some advanced AI integrations you can try:
Unleashing the Future of E-Commerce With AI-Powered Shopify Stores
If you're ready to learn how to build a successful Shopify store, AI should be at the forefront of your development and operational strategy. You'll reap the benefits of supercharging areas like personalized customer experiences, streamlined inventory management, automated customer support, dynamic pricing strategies, predictive marketing analytics, and more. AI provides a genuinely transformative potential for enhancing e-commerce operations. As you continue your journey, leverage AI tools like apps and integrations (including Egnition's apps) to improve your Shopify business and stay ahead of your competition.